The Gorge
(Gone, but not forgotten!)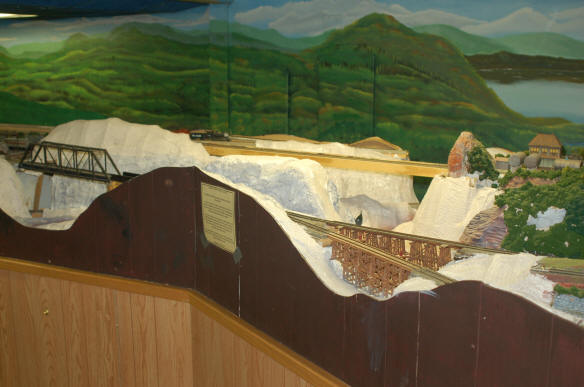 The Gorge was an area of our layout that was replaced by our current Darkwater section. And even though it is now just a memory, it was an important part of our layout, and therefore worthy of remembrance on this page.
Member Hugh "Chugger" Jeffrey took charge of this area and brought it to completion. The picture above is a view of The Gorge at about 50% completion.
If you look closely at the photo above you can count a total of four bridges with an additional one missing that spanned The Gorge's river. The missing bridge, just right of center and all the way in the rear, was the Dinky's Creek narrow gauge bridge. The two bridges front right are wooden trestles, and the one front left is a through truss design. Our main lines also crossed The Gorge on the temporary strip of wood in the center. The heavy duty design of this bridge, once it was completed and installed, reflected the demands of main line tonnage.
Follow along and enjoy the photos below of Hugh "Chugger" Jeffrey's most excellent work.
| | |
| --- | --- |
| | An overall view of the area. Some of the rough scenery has been completed, and the basic outlines of The Gorge have been established. The Gorge is located next to our logging area (where our Helix now resides) and should fit in nicely with the theme. |
| | A view from the front showing two of our wooden trestles. |
| | Another front view. |
| | The view from the rear showing one of the main lines where a new bridge will be installed to replace the temporary plywood board we now have crossing The Gorge. This view also shows the narrow gauge line and the soon to be installed 'Dinky Creek' bridge. |
| | Chugger is getting ready to start the scenery on the The Gorge. Here he's rounding up and preparing the molds to cast several different wall sections for the area. |
| | Here we see Chugger has started to work in one of the tunnel portals. Also, to the left in the picture we can see one of the stone retainer walls he has added. The bridge above is temporary and will soon be replaced. |
| | Chugger has added another portal below the steel bridge in this picture. |
| | Chugger is starting to color the scenery. He has already installed several of the tunnel portals and is working them into the scene. |
| | The Dinky Creek bridge is being set in place to handle our narrow gauge line in The Gorge area. |
| | Two of the tunnel portals are complete and ready for business. |
| | A look at the river and the bridges that cross it. The area is almost complete with just a little coloring left to do. |
| | Another view of one of the bridges crossing the river. |
| | Part of the town of Dinky Creek next to the river. |
| | |
Updated September 19, 2019